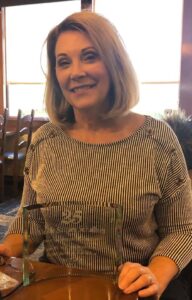 Celebrating 25 years in business, Vickie Saugey Schaffner started Reflections in 1994.
How We Started
Vickie's interest in being a hairstylist goes back to her teen years. In her early teens, she learned to coax her curly hair into various styles. She says this was out of necessity! Her friends took note, and soon she was helping them tame their tresses.
Over the years, she continued to have a strong interest in using hair and make-up to help friends and family members look their best. When a life event caused a change in circumstances, she went to cosmetology school to receive formal training and Reflections was born.
How We Grew
We find it very gratifying to note that while hairstyles have changed, many of our clients have been with us for years. Welcoming new clients while earning the loyalty of longtime patrons has been our top priority. As new products and tools are introduced, we're continually updating our skills and methods to provide the latest and best options.
Like every business, we've had our ups and downs along the way. Vickie is grateful to many people who have inspired and encouraged her. In particular, the late Claude E. Jones gave her a poem, "Don't Quit," to show his support.
What We Do … Who We Are
We believe each of our clients deserves our full attention. While we will make suggestions to help keep you from getting stuck in a rut, we take into consideration your lifestyle and personality to work with you to create a look that is as unique as you are.
We carry hair products used in the salon. If you ask, we may recommend some products to you, and we stand behind those products. But we're not pushy and never want you to feel obligated to buy something you don't want.
We love our community and believe in giving back, so we participate in charity events every year.
When you look great, we feel great!